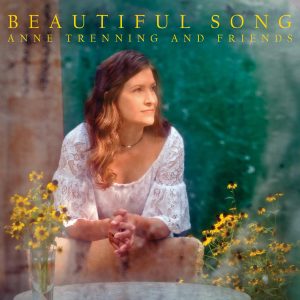 Anne Trenning and Friends present Beautiful Song, a collection of original music by composer and pianist Anne Trenning, with curated cover selections from a multi-genre spectrum. Joined by James Todd, Bill Leslie, John Magnie, Jeff Oster, Ciro Hurtado, Jane Brendle, David Meyer, Josh Daniel, Mark Schimick, and Rick Dior, this vibrant musical assemblage showcases the contributions of each featured artist alongside Anne's emotionally resonant piano.
1… Beautiful Song
2… Helpless (N. Young)
3… You Will Know My Love
4… El Farol (C. Santana)
5… Do I Hear Christmas?
6… Miller Gap
7… It's A Great Day To Be Alive (D. Scott)
8… Hard Times Come No More
9… Building The Barn (M. Jarre)
10… If I Could Be With You
11… Go Light Your World (C. Rice)
Listen to MP3 audio clips by clicking on the links in the track listing above.