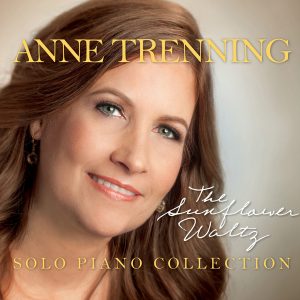 Anne's fourth release, The Sunflower Waltz, is collection of solo piano melodies crafted on one of the nest pianos in the world, the Shigeru Kawai. Envisioned and recorded at Piano Haven Studio, this superb compilation highlights the power of a singular instrument to evoke a spectrum of emotions. The original compositions include ten melodically and rhythmically diverse new pieces along with solo piano re-imaginings of six previously released songs. Lively and upbeat, thoughtful and meditative, the music presents a wealth of melodic character and nuance.
1… Max's Birthday
2… The Sunflower Waltz
3… Claire of my Heart
4… Just Fly
5… Fade To Blue
6… Letting Go
7… Cowgirl Daydream
8… In the Gloaming Light
9… Sing to the Lord
10… Backyard Dreamer
11… Where Rivers Run
12… Days Gone By
13… Ben's Song
14… How Fair My Love
15… The Welcome Song
16… A Prayer for the World
Listen to MP3 audio clips by clicking on the links in the track listing above.