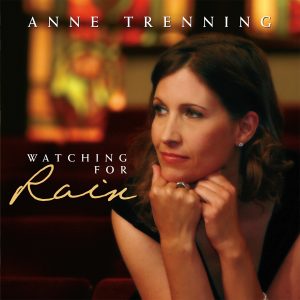 Anne's third release, Watching for Rain, contains ten originals plus the Welsh folk melody "The Ash Grove," the traditional spiritual "I Want To Be Ready," the modern gospel "H. I. A. T. W.," the Don Schlitz-Paul Overstreet country classic "When You Say Nothing At All" and a 37-second benediction-like coda of Bob Dylan's "I Shall Be Released." Trenning also offers a new arrangement of the Celtic-spirited "Eden Hall" that originally appeared on her first recording. Her new material ranges from the grand and stately "The Welcome Song" (featuring a piano-cello-violin trio) to the Americana minuet-feel of "Carolina Moon." "You and Me" is about the evolving nature of relationships. "A Prayer for the World" is both reverent and soulful.
1… The Ash Grove
2… Silent Night II
3… Eden Hall
4… A Prayer For The World
5… The Welcome Song
6… You and Me
7… Days of Pie
8… Carolina Moon
9… And I'll Fly Away
10… I Want to be Ready
11… H. I. A. T. W.
12… Real Love
13… When You Say Nothing At All
14… Dancing With You (bonus track)
15… Benediction
Listen to MP3 audio clips by clicking on the links in the track listing above.